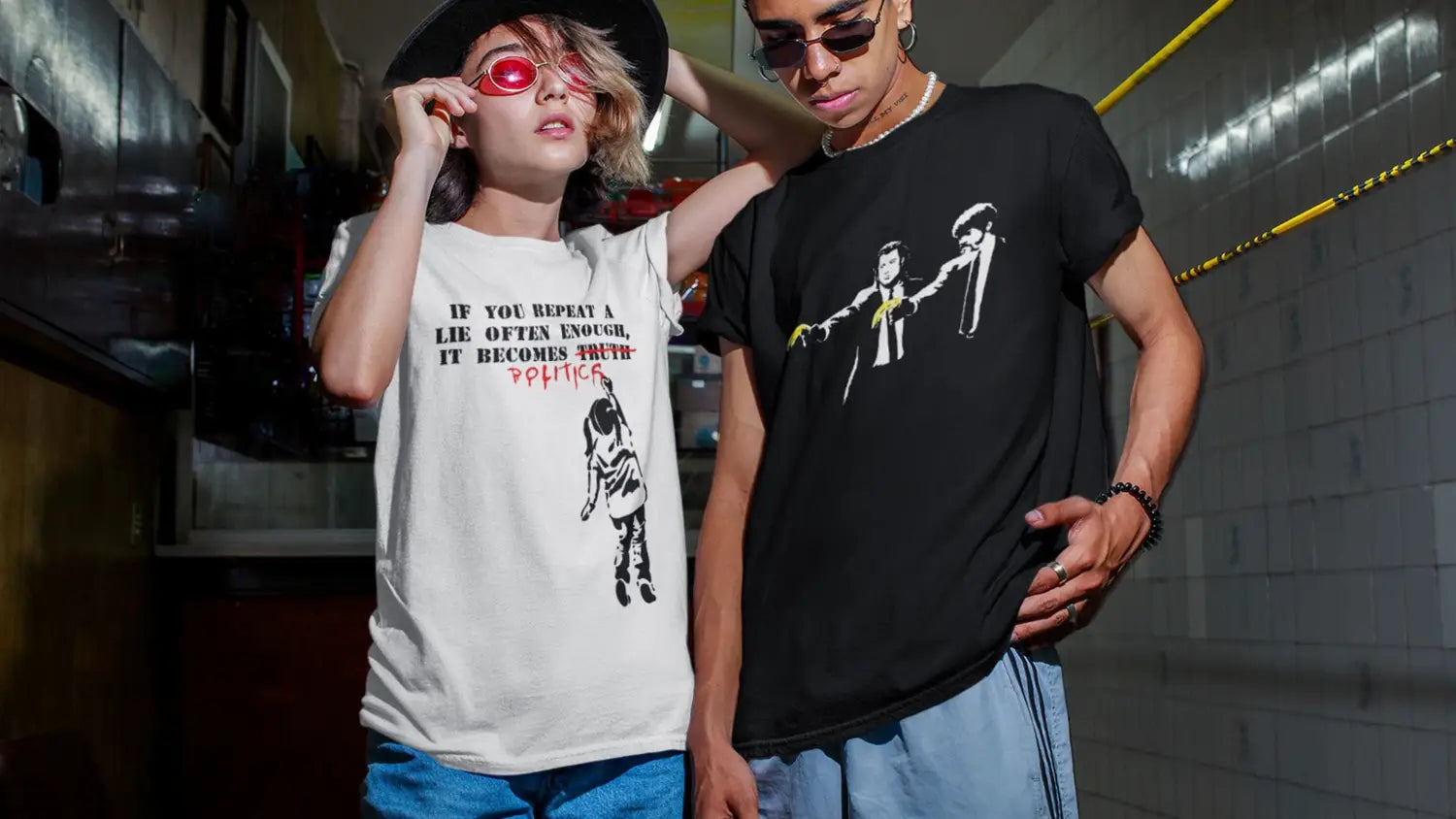 149 products
Banksy T Shirts - Make an impression
Snogging policemen in Brighton, a murdered red phone box in Soho Square, an illicit lover escaping from his mistress's window in Bristol – Banksy's hilarious and thought-provoking designs can be found in public spaces in cities across the world. The ever-mysterious street artist probably wouldn't approve of a Banksy t shirt collection (just watch 'Exit Through the Gift Shop') but when they look damn good, it's impossible to say no! Our t shirts feature all of the very best pieces. From rioters violently hurling bouquets to cavemen clutching fast food and the Mona Lisa audaciously mooning the viewer – our high quality, 100% cotton Banksy shirts feature all of your favourite Banksy designs.
Our Banksy T shirt collection
Aside from his wry intelligence, audaciousness and incredible skills with a stencil and a can of spray paint, part of the popularity of Banksy is down to his cloak of mystery! Banksy is a nameless and faceless street artist, political activist, painter and director who first gained attention in the English city of Bristol. His work is anti-war, anti-authoritarianism, anti-capitalism – in fact, in his book 'Wall & Piece' Banksy states: "Sometimes I feel so sick at the state of the world, I can't even finish my second apple pie." However you feel about the state of the world, Banksy's insightful imagery and social commentary certainly makes it all a little more beautiful and a whole lot more interesting.
Custom made Banksy shirts
Choose your favourite print, select your size, select your colour and head to the shopping cart! Simple. Our Banksy shirts are professionally screen printed, made from 100% cotton, machine washable and available in 9 colours from size S to XXXL.