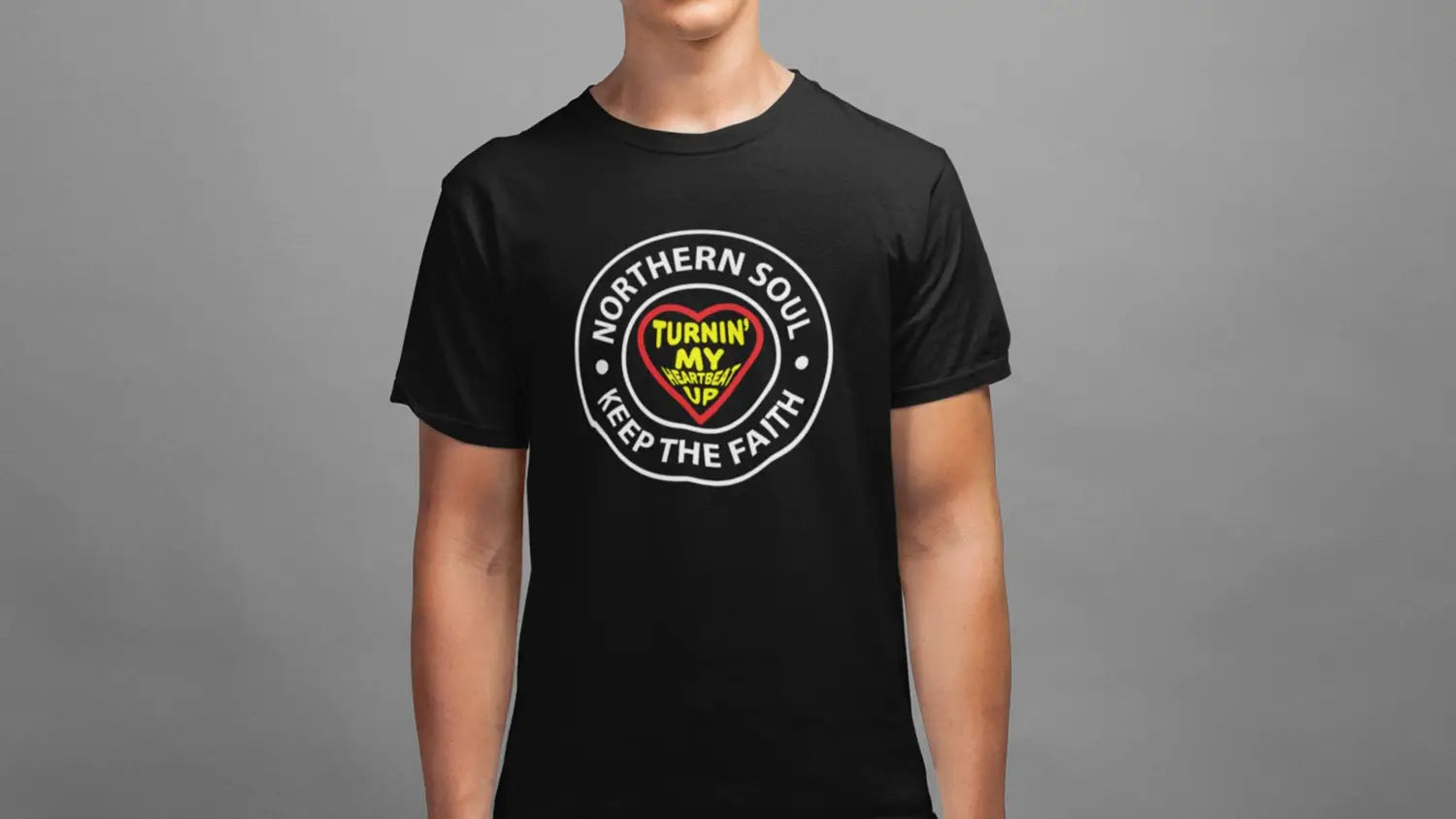 123 products
Northern Soul T Shirts: More Soul than Wigan Casino
Let Northern Soul take you back to when dancehalls in northern England were the centre of the world. From Wigan to Sheffield, Wolverhampton to Stoke on Trent, the American R&B stylings of Jackie Wilson, Edwin Starr, the Supremes and many more ruled the airwaves at all night raves. Throughout the 60s and 70s, music loving punters filled the dance floors of the Golden Torch in Stoke, The Catacombs in Wolverhampton and – of course, the daddy of them all – Wigan Casino, dancing 'til 8am to their own special brand of rare and underground Motown influenced US R&B 45s. Youths at the time were fed up with pop music, and had a passion for underground, unheard of soul music. The songs may never have been massive hits in the USA, but for the people of northern England they were a way of life… and to a certain extent, still are.
The Grooviest Northern Soul Clothing
Did you know that, at some £25,742, Frank Wilson's 'Do I love you? Indeed I do', is the most expensive 7" single ever sold? Rumoured to have only two copies of it in existence, buty possibly as many as five, the Northern Soul song is one of the genre's finest moments – and also its rarest memento. With our stylish range of Northern Soul t shirts, hoodies and polo shirts, you can enjoy a huge variety of Northern Soul accessories without having to pay out such eye-watering prices. Whether you were there during the glory days in the 60s and 70s or fell in love with the beat in your bedroom many years later, you have the chance to truly channel your inner soul boy (or girl) and dance all night in a selection of stylish t shirts and clothing.
Custom Made Northern Soul T Shirts
Choose your favourite print, select your size, select your colour and head to the shopping cart! Simple. With designs sporting Tamla Motown greats such as Stevie Wonder and Jackie Wilson to the iconic logos of Stax and Wigan Casino – plus the world famous Northern Soul 'Keep The Faith' fist design – you've a wide variety of amazing designs to pin your Northern Soul colours to the mast.
The Best Range of Soul T Shirts This Side of the Sixties
At Tribal T Shirts, we love Northern Soul almost as much as we love T shirts. Although the sound and the scene has never really gone away, Northern Soul is enjoying a resurgence thanks to regular dance nights occurring throughout Lancashire and the North West. The 2014 Northern Soul film directed by Elaine Constantine has also helped re-ignite interest in the genre, and our ever expanding range of northern soul clothing now includes a wide range of northern soul polo shirts, hoodies, tote bags and retro-tastic ringer T shirts.

Here's a short video demonstrating some of our northern soul clothing ...